Aspergillus Niger



Japanese

A.ニガー

Species

Microbe

Manga Debut

Chapter 9

Anime Debut

Episode 3
Aspergillus Niger (A.ニガー) is a microbe in Moyashimon. It appears in Microbe Theater 3.
Appearance

Edit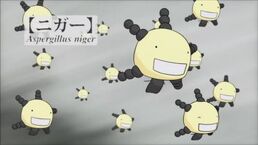 Aspergillus Niger 
is virtually identical to 
Aspergillus Oryzae
, with a round head with 5 stacks of 3 spheres and a stubby body, except the spheres and the body are black.