Aspergillus Oryzae



Japanese

麹菌

Species

Microbe

Manga Debut

Chaper 1, Page 6

Anime Debut

Episode 1
Aspergillus Oryzae is a filamentous fungus (a mold), and the mascot of the Moyashimon series. It is used primarily in the production of sake. The manga says that they think they can do everything by themselves.
Appearance
Edit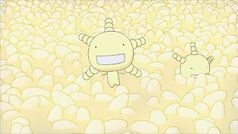 Its representation in Moyashimon has a large, circular head with 5 small stacks of 3 spheres coming off of it. It has small, black, circular eyes, and a white square for a mouth. It also has small body with stubs for arms and legs. It is completely yellow.
Ad blocker interference detected!
Wikia is a free-to-use site that makes money from advertising. We have a modified experience for viewers using ad blockers

Wikia is not accessible if you've made further modifications. Remove the custom ad blocker rule(s) and the page will load as expected.