Kei Yuuki



Japanese

結城 蛍

Species

Human

Biological Sex

Male

Manga Debut

Chapter 1

Anime Debut

Episode 1

Kei Yuuki is Tadayasu Sawaki's childhood friend. She is also a freshman at the Agricultural University in Tokyo. Her family owns and runs a sake brewery. She despises hiochi-bacteria.
Involvement 
Edit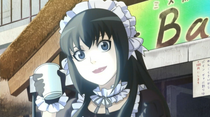 He first appears in episode 1. He disappears from the show in episode 6. He reappears in episode 10 dressed as a Gothic Lolita. He reveals that he as more romantic feelings for Sawaki than he had first displayed.
Ad blocker interference detected!
Wikia is a free-to-use site that makes money from advertising. We have a modified experience for viewers using ad blockers

Wikia is not accessible if you've made further modifications. Remove the custom ad blocker rule(s) and the page will load as expected.