Lactobacillus Fructivorans



Japanese

火落菌

Species

Microbe

Manga Debut

Chapter 2

Anime Debut

Episode 2
Lactobacillus Fructivorans, more commonly known as hiochi-bacteria, is a microbe that is encountered in Moyashimon. It played a role in Tadayasu Sawaki and Kei Yūki meeting Kaoru Misato and Takuma Kawahama, as well as causing Kei's chief brewer to hang himself.
Appearance
Edit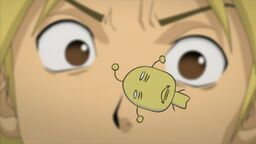 Lactobacillus Fructivorans is a sickly yellow color, with bags under the eyes and a sagging mouth. It has a oval-shaped head with 3 antennae with spheres at the ends. it also has a small torso with stubby arms and legs.
Ad blocker interference detected!
Wikia is a free-to-use site that makes money from advertising. We have a modified experience for viewers using ad blockers

Wikia is not accessible if you've made further modifications. Remove the custom ad blocker rule(s) and the page will load as expected.